Published on Wed., March 1, 2023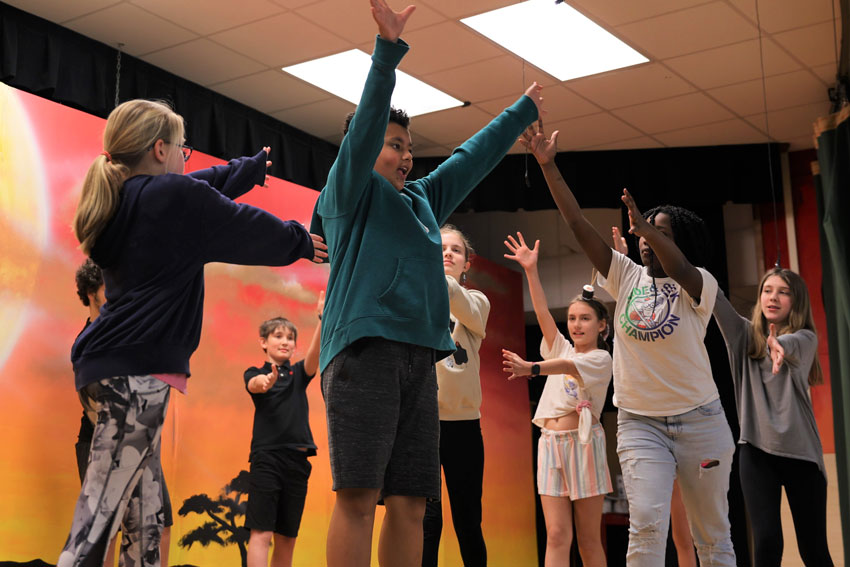 For the first time in years, Linkhorne Middle School will welcome community members to experience its annual spring musical within the walls of its own building. Breaking with the tradition of performing in the E. C. Glass Civic Auditorium, Linkhorne Middle's production of Disney's The Lion King Jr. will take place in the school cafetorium this weekend.
This week, students are hard at work polishing their choreography, nailing their blocking, and transforming the stage into an African savanna. A buzz of anticipation fills the cafetorium as students prepare for the show.
"This is a great opportunity to invite the community to see everything we've accomplished here in the theatre program. We're doing it for Linkhorne Middle, so why not perform from our own stage?" said seventh grader E. J. Matthews, who's playing the part of young Simba.
For many Lion King, Jr. cast and crew members, performing the musical on their home turf is a source of pride. It's not the flashiest stage, but it's theirs. The students are eager to share their love for Linkhorne Middle's theatre program. 
"The program here is just so amazing. Ms. Spencer does everything in her power to build this show. No, we don't have a big auditorium, but she always makes it perfect," Matthews said.
Linkhorne Middle Theatre Director Brooke Spencer speaks passionately about the progress she's seen in the program since she came on board three years ago.
"We're working hard within the fine arts department to spearhead a movement over here at Linkhorne Middle," Spencer said. "We want to spread joy, happiness, and laughter—to give back to the community through storytelling."
Spencer celebrates the students' development as actors and crew members, but for her, this musical symbolizes more than just a love for the theatre.
"Middle school is a time in students' lives when insecurity typically rules decision-making. It takes boldness and bravery to step forward and be seen and heard on the stage, and I want to congratulate them for that. I'm grateful to help students become better versions of themselves through theatre," Spencer said.
When the cast and crew of The Lion King, Jr. step onto the cafetorium stage Friday, their performance will be a testament to the hard work and personal growth that have prepared them for this moment. 
The curtains will rise on March 3 and 4 at 7:00 p.m. and March 4 and 5 at 3:00 p.m. Buy tickets at www.lynchburgtickets.com/lionking.