Published on Fri., February 10, 2023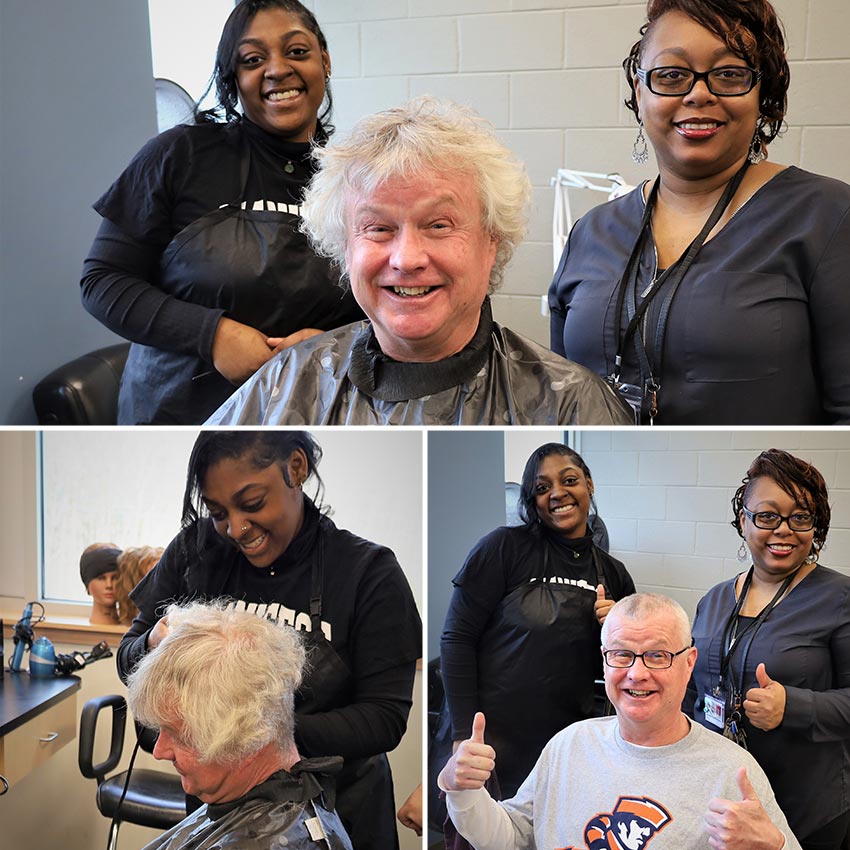 Newly-appointed Supervisor of Career and Technical Education (CTE) Robbie Dooley put the Lynchburg City Schools cosmetology program to the test Friday when he came in for a haircut by Heritage High School senior Day'Niyah Patrick.
Thankfully, he was in good hands. Patrick has been learning professional hairdressing techniques for nearly two years.
As a child, Patrick fostered a burgeoning love for cosmetology by practicing braiding and hairstyling on herself, her family members, and her friends. Joining the CTE program helped channel her passion into industry-standard skills and knowledge. When she graduates in June, Patrick will have the opportunity to earn her cosmetology license.
Afterwards, she plans to attend college for business and entrepreneurship and then start her own salon. Eventually, she wants to teach young girls the same skills she's learning now. Cosmetology teacher Jasmine Payne has been a mentor to her, and Patrick hopes to be the same for her own students in the future.
"I love Ms. Payne. She's like a mother to me. She's always had faith in me. Like, 'you can do this,'" Patrick said.
Housed inside Heritage High School, Payne's cosmetology classroom is abuzz with students styling mannequins' hair and shaping acrylic nails. Like all secondary CTE programs at LCS, the cosmetology program accepts students from both Heritage and E. C. Glass high schools.
Carleigh Foster, senior cosmetology student at E. C. Glass, also plans to turn the skills she's honed in Payne's class into a career. She plans to start her own nail salon after attending business school.
"You definitely get experience in a bunch of different areas. We get to touch a little bit of everything. And the best part about this class is that it's hands-on," Foster said.
Dooley is diving into his new role with students like Patrick and Foster in the forefront of his mind. He aims to strengthen relationships between CTE students and the greater Lynchburg community, opening up opportunities for internships and apprenticeships that will propel students forward on their career journeys.
"Our students are so skilled. And we want people to know that Lynchburg City Schools is providing their own pipeline for the future," Dooley said.
Dooley brings a wealth of experience to the program from his years as a CTE educator and the former president of the Virginia SkillsUSA board. His goal is to uplift students however he can–in this case, by being their most enthusiastic haircut client.
"That's my job–to be their biggest cheerleader," Dooley said.
In addition to cosmetology, LCS CTE programs offer hands-on training in carpentry, nursing, automotive technology, machining, culinary arts, dentistry, cybersecurity, marketing, finance, and more. Learn more about LCS CTE programs here.