Published on Fri., March 31, 2023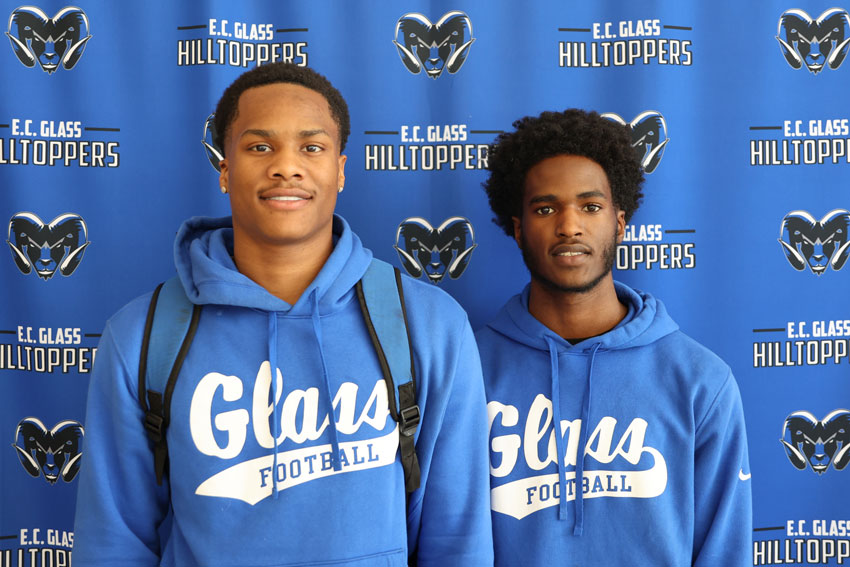 E. C. Glass High School football players Chris Walker-Wells and Lyvarius "Varri" Gilbert became some of the first students to receive the Hilltopper Alumni Football Scholarship on Monday. They were each awarded $5,000, which will be spread out over the next four years as they attend college as student athletes. 
Made possible by a group of anonymous donors who pledged $20,000 over four years through Lynchburg Beacon of Hope, the annual scholarship was first given to two E. C. Glass High football players last year. Another group of donors matched this year's funds so both players could receive the scholarship. 
"It feels good being able to go to college and continue my education. I want to help my family the best way I can," Gilbert said. 
Gilbert will be the first in his family to attend college. He plans to play football at Virginia Union University in Richmond. For him, this scholarship represents a culmination of all the important lessons he's learned over his four years playing varsity football and three years as a football captain at E. C. Glass High.
"It taught me how to be humble. When I first came here, I didn't get to play the position I wanted, and I had to work for it," said Gilbert. "I fell in love with the school, the coaches, and the way they work things."
Walker-Wells, a four-year varsity football letter winner, will go on to play for Alderson Broaddus University in West Virginia. He plans to study cybersecurity.
"I want to be successful and look out for my community," Walker-Wells said, reflecting on his goals for after graduation. 
In addition to financial support, Walker-Wells and Gilbert will have access to resources and mentorship from the Beacon of Hope Office of College Success. Beacon of Hope, which also awards scholarships to Heritage High School students, hopes to encourage a culture of community and alumni support through these programs. 
"Together, these generous investments seek to foster a culture of students looking forward to their individual futures and looking back to our collective community," said Beacon of Hope in a statement.