Published on Tue., November 22, 2022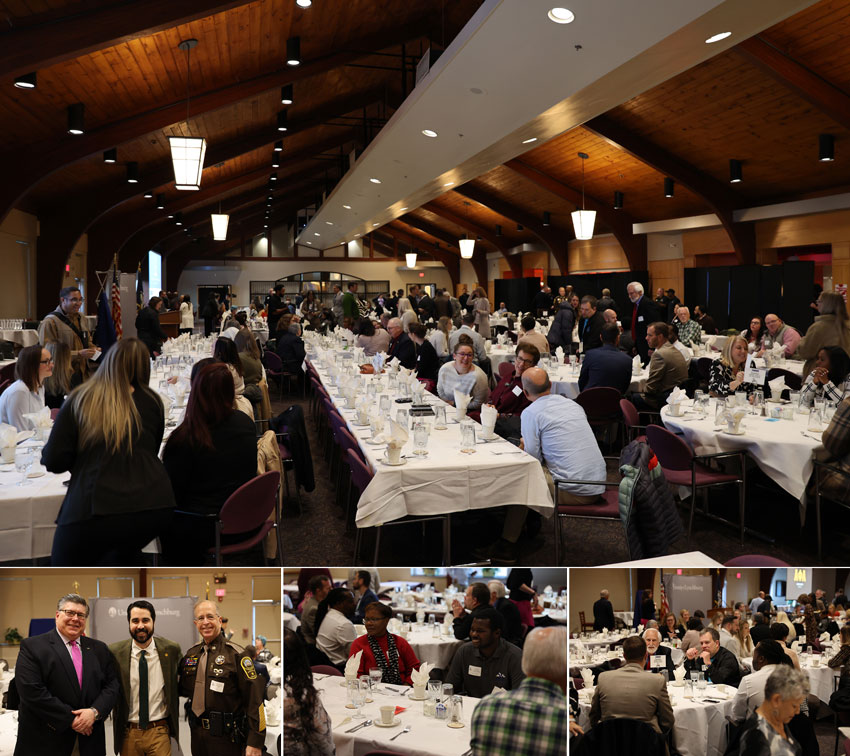 Lynchburg City Schools and the Lynchburg Regional Business Alliance hosted the annual Partners in Education Recognition Program and Breakfast on November 22, 2022 at the University of Lynchburg. Partners in Education is a joint venture between LCS and the Alliance and was created to link LCS with area businesses, organizations, and institutions.
New and returning partners were recognized for their dedication to the school system, and an updated logo for Partners in Education was unveiled during the event.
Partners reaching milestones since the last recognition program were as follows:
1 Year
Atlantic Union Bank
Buff City Soap
Girls Who Code
Homestead Creamery
Jefferson Choral Society
Newman Translation Services
Austin James Realty
University of Lynchburg - College of Business
Be SMART for Kids/Moms Demand Action
Fort Hill United Methodist Church
Providence Church International
5 Years
Bedrock Church of Lynchburg
Crosspoint Church
First National Bank
Men 2 School
Centra Nutrition Services
Homes for Heroes
St. John's Episcopal Church
Vector Space
Amazing Grace Outreach Church
Beulah Baptist Church
Director's Cut Barbershop
Gamma Nu Lambda Chapter of Alpha Phi Alpha Fraternity, Inc. 
Jackson Street United Methodist Church
James River Association
Jersey Mike's
Sports Outreach
American Red Cross
Anne Spencer House & Garden Museum
Grace Memorial Episcopal Church
Lynchburg Sherriff's Office
One Community One Voice
Stand Up. Inc
Camp Kum-Ba-Yah
Virginia University of Lynchburg
10 Years
United Way Young Leaders Society
City of Lynchburg Public Works
Beacon of Hope
Candler Oil
Lynchburg Museum System
Lynchburg Public Library
Quaker Memorial Presbertyerian Church
Salvation Army
Virginia Cooperative Extension
University of Lynchburg - School of Physical Therapy
University of Lynchburg - Art Department
Opera by the James
Rehab Associates of Central Virginia
The Framery & Arts, Inc.
Virginia Department of Health
West Lynchburg Baptist Church
Compassion Church of the Nazarene
15 Years
Bank of the James
VA Daughters of the American Revolution - John Lynch Chapter
Givens Book Store
Lynchburg Grows
Lynchburg Morning Rotary Club
Bright Hope, Inc. 
Lynchburg Economic Development Authority
Marsh Memorial United Methodist Church
University of Lynchburg - Center for Community Development & Social Justice
Scottish Rite
Sam's Club
Walmart
Girls on the Run
Ortho Virginia
20 Years
Achieve Central Virginia
Talent Search & Upward Bound - VA Tech
Amazement Square
Historic Sandusky
Lynchburg Humane Society
Texas Roadhouse
White Rock Hill Educational Center
Randolph College
Blue Ridge Area Food Bank
Kid's Haven
Kroger 
Kiwanis Club of Lynchburg
Lynchburg Education Assocication
Central Virginia Community College
Park View Community Mission
Fellowship Community Outreach Center
25 Years
University of Lynchburg - Center for Student Leadership
Associated General Contractors of VA - Central District
Big Brothers/Big Sisters
The Junior League of Lynchburg
Bull's Steakhouse
Campbell Insurance
Lynchburg Coco-Cola Bottling Company
Lynchburg Rotary Club
Westover Dairy
Lynchburg Fire Department
Lynchburg Parks & Rec
Boys & Girls Club
30 Years
Academy Center of The Arts
Appalacian Power Company
Architectural Partners
BWX Technologies, Inc.
Coleman-Adams Construction, Inc.
Framatome, Inc.
HumanKind
Old Dominion Job Corp
Lynchburg Baptist Association
Lynchburg Hillcats
Lynchburg Symphony Orchestra
Liberty University
Lynchburg Bar Association, Inc. 
Lynchburg Dental Society
Wiley/Wilson
YMCA of Central Virginia
YWCA of Central Virginia