Published on Tue., June 14, 2022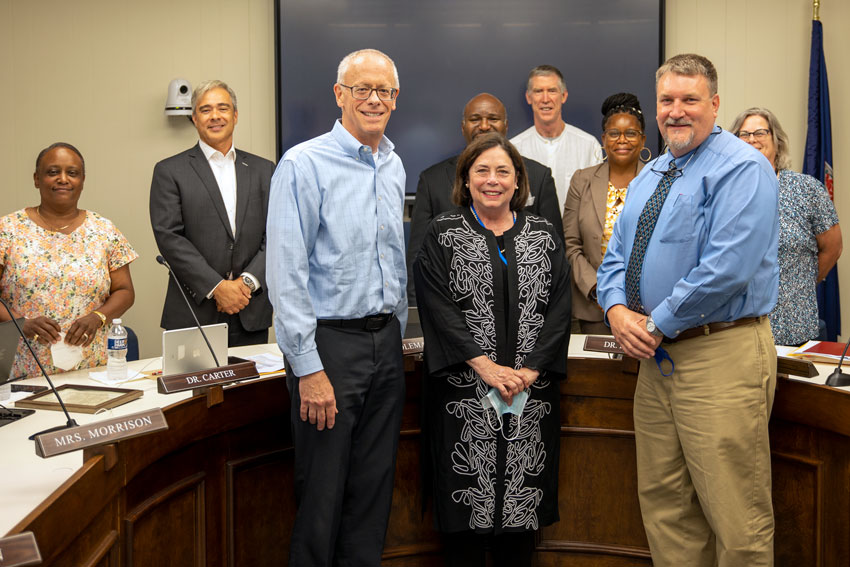 During the School Board Work Session on Tuesday, June 14, 2022, the LCS School Board recognized three members of the School Board who are retiring. Mr. Gary Harvey, Mrs. Susan Morrison, and Dr. Michael Nilles were recognized for their years of service. 
During the special recognition, each member was presented with a gift and shared a few words of appreciation. Mr. Harvey stated to the School Board, "It has been a pleasure and an honor to serve with you because I know deep down in your hearts you are looking out for our students." Mr. Harvey is excited to continue working with Partners in Education and to find new ways to serve in the schools.
Mrs. Morrison thanked City Council for the opportunity to serve on the School Board. She also thanked Superintendent Dr. Edwards and all LCS staff by stating, "I can not thank you enough for accepting the challenge of educating our children, our community's future, and I salute you every single day." Dr. Nilles acknowledged every member of the School Board and stated, "Serving on the Board has been a good experience for me." He also extended appreciation to all LCS employees and stated, "You are the ones that keep the schools running, the schools are clean, students are fed and transported safely."
LCS thanks Mr. Harvey, Mrs. Morrison, and Dr. Nilles for their years of service and commitment to our LCS mission: Every Child, By Name and By Need, to Graduation!