Published on Wed., January 27, 2021
While Linkhorne Middle School continues to serve as a pilot program for Virginia Tiered Systems of Support, sponsored by the Virginia Department of Education, we have recently adopted a virtual rewards program for students through the PBIS Rewards platform. This is very exciting news!!  
Students now earn jag points for demonstrating desired behaviors according to our "How to SPOT a Jaguar" behavior matrix!
LMS Expectations
How to SPOT a Jaguar

S

uccessful
Learner

P

ositive
Role Model

O

utstanding
Citizen

T

eam
Player
All Settings

Keep cell phones off and in lockers
Seek first to understand

Show respect through words and actions
Keep hands and feet to self

Be responsible
Embrace diversity

Cooperate with others
Use peaceful words to solve problems

Classroom

Participate and engage in learning
Follow teacher instructions

Allow everyone to learn
Be prepared

Be an active listener
Take care of materials

Contribute to class
Offer assistance

Transitions

Adapt to changes in routines
Be on time

Be kind
Forgive yourself and others

Voice level 0-1
Walk with a purpose

See something, hear something, say something

Cafeteria

Follow directions quickly
Be friendly

Accept others
Voice level 2

Be where you are supposed to be
Clean up after yourself

Initiate conversations
Volunteer to help

Virtual

Prepare workspace
Consistently log on to Homeroom on time
Be aware of deadlines

Use video & mute unless permitted
Wear attire that promotes a positive learning environment

Keep food and drink away from Chromebook
Use academic language

Stay on topic in video and in chat
Be kind and professional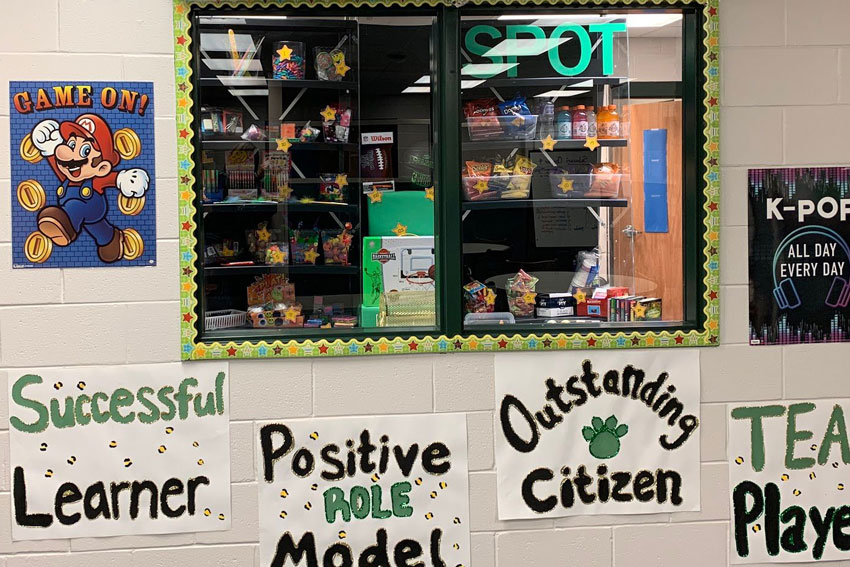 When a staff member SPOTs a student demonstrating these behaviors, they can now award them a virtual point from the PBISRewards website or through an app on their phone. Students can spend their points in our SPOT STORE for merchandise or on some non-tangible items. Merchandise ranges from small trinkets and snacks to larger items like basketballs, footballs, and fanny packs (costing between 1 and 125 points). Non-tangible items include things like "lunch with a friend" in our SPOT Cafe (social distancing still applies) or points added to a homework assignment. We hope to receive some donations from community members to extend reward options to include larger prizes that will offer students the ability to purchase raffle tickets with their points in the future. 
How can your student earn points?  
The easiest and surest way to acquire a daily point is by participating in homeroom. Each student who attends homeroom (physically or virtually) or answers the daily question before the end of homeroom time each day (by 9:00 a.m.) can earn one point. That's 5 points each week right there! Other points are earned when staff see students demonstrating these desired behaviors. 
How do students receive their rewards? What about remote only students?  
Everyone is included! Our SPOT store is not only a physical store in our media center but is ALSO fully virtual. Students (at home or at school) can log in to the website and shop from the store. LMS staff receives a notification of the student's purchase and packages those items for delivery. Students in the building will have their rewards delivered to them during their lunch period or during 8th period on Wednesdays (cohort A) and Fridays (cohort B). Virtual students will be told about  "pick up times" or may even receive a visit from our SEL team to receive their prizes at home (we are still developing these procedures.)
How can parents and students access the rewards information?
Students have an automatic account that they can access at PBISrewards.com and log in as a student. (When it asks for a student ID number, it is the small number on the cards we handed out to them and is NOT their school ID number. For remote students, please ask homeroom teachers for this number.) Ask your student to show you theirs! Browse the store! Help your child set behavior goals. 
Parents can learn more about the program on the PBIS Rewards website and can begin to explore the parent side of things by creating an account here: Parent app information.
Watch this quick video to see what we shared with the students about the roll-out of this program: Video about PBIS Rewards.
What can you do to help?
We are so excited to have school-wide participation and anticipate the focus on positive behaviors will support all students in an equitable and fun way. Research shows that the best way to decrease unwanted behavior is to positively reinforce desired behavior! LMS is thrilled to have the opportunity to use this program to support these efforts. 
Be patient with us as this is a very involved program with layers of learning we all must embrace
We always welcome donations to be used as incentive rewards for both students and staff.   If you have a good connection to something, please hook us up.  
Even the staff is earning points from each other for demonstrations of leadership, dedication and teamwork. Let us know when you see a staff member shining in one of these areas. 
What if you have questions?
Start by reaching out to your student's homeroom teacher
Use this form to ask a team member: Ask your questions here